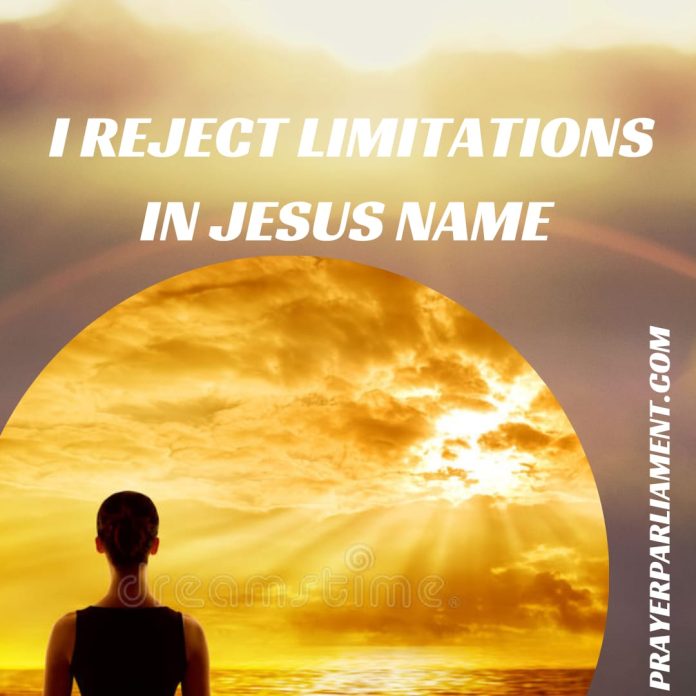 EXHORTATION
WHAT ARE LIMITATIONS?
Limitations are:
Setbacks
Hinderances
Disturbances
Stagnations
Barriers
Obstacles
Obstructions
Restrictions
Constraints
Clampdowns
Inhibitions
Blockages
LIMITATIONS ARE NEGATIVE CONDITIONS
Exod. 8 v 28 (NKJV)
"So Pharaoh said, "I will let you go, that you may sacrifice to the Lord your God in the wilderness; only you shall not go very far away. Intercede for me." 
The children of Israel, having been in Slavery for 430 years demanded for their freedom.
King Pharaoh responded with this negative statement that he will let them go but on one terrible condition "that they will not go far away".
What a terrible negative condition?
What a gruesome Limitation?
What a Sinister restriction?
What a negative control?
What a satanic regulation?
What an opposing voice?
What an unwanted hinderance?
What an undesired inhibition?
PROCLAMATIONS
I pray for you that:
Any dark power boasting that you will not go far in life shall be disgraced in Jesus name.
Any strongman of darkness behind that gruesome limitation in your life shall be disgraced in Jesus name.
Any negative control regulating and limiting your progress is hereby broken in Jesus name.
Any opposing voice, any antagonizing voice, any contrary voice, sponsoring limitations against you, be silenced now in Jesus name.
Any restriction on your manifestation is hereby removed in Jesus name.
Any unwanted negative condition affecting and limiting your potentials is herby cancelled by the blood of Jesus in Jesus name.
All the hinderances on your destiny pathway are hereby removed in Jesus name.
Shout: I will go far in life in Jesus name. (7x)
DEFINITION OF A SPIRITUAL LIMITATION
v.2 "And the LORD spake unto me, saying."
v.3 "Ye have compassed this mountain long enough: turn you northward."
It is an INVISIBLE POINT which no man can go beyond.
It is a RESTRICTION on your SIZE, GROWTH, AMOUNT, VOLUME, CAPACITY.
It is a spiritual operation of STAY PUT, STANDSTILL, DON'T GO FURTHER
It is anything that keeps you in the TAIL REGION OF LIFE.
It is anything PREVENTING YOUR SUCCESS, PROGRESS, MARRIAGE, FRUITFULNESS, EXCELLENCE.
It is anything that DISALLOWS your STAR/TALENT/SKILL/KNOW HOW from shinning.
It is anything OPPRESSING you in a particular area of your life e.g., SICKNESSES, NEGATIVE HABITS.
It is anything DISTURBING YOUR GLORY/DESTINY/WELFARE.
It is anything HINDERING YOUR PROSPERITY/ BREAKTHROUGH/ MANIFESTATIONS.
It is anything REDUCING MULTIPLICATION and INCREASE IN YOUR LIFE.
It is anything HOLDING YOU DOWN IN CAPTIVITY.
It is anything holding you down to WHERE YOU DON'T BELONG.
It is anything holding you down to WHERE YOU SHOULD NOT BE SEEN.
It is anything holding you down to A PLACE THAT DOES NOT BEFIT YOUR STATUS.
It is anything holding you down to A SUBSTANDARD AND DEMEANING PLACE.
It is anything holding you down to A WRONG ENVIRONMENT
It is anything holding you down to WHERE YOU CAN'T MAKE IT.
It is anything holding you down to a WRONG PLACE OF WORK
It is anything holding you down to a WRONG PLACE OF WORSHIP.
It is anything holding you down to WHERE YOU ARE NOT WANTED.
It is anything holding you down to WRONG CIRCLE OF PEOPLE.
It is anything holding you down to SAME PATTERN OF MISTAKES.
Spiritual Limitation is a STOPPER OF GOOD THINGS
Spiritual Limitation PAUSES your progress and forward lifting.
Spiritual Limitation is a NEGATIVE FORCE working against your Breakthrough.
Spiritual Limitation is an EVIL PROGRAMME by star hunters and the adversaries of your soul.
CAUSES OF LIMITATION
Wrong Location/environment
Wrong Mindset
Negative Attitude
Low self esteem
Wrong mental profile
Assumptions
Lack of focus
Laziness/Idleness
Misconception
Ingratitude
Entitlement Spirit
Wrong Platforms
Wrong Friendship
Wrong Choices
Emotional/ Mental/Spiritual abuse
Pride and Arrogance
Depression
Confusion
Knowledge Gap
Wrong Investment
Complacency
Inability to Utilize Opportunities
Bitterness & Malice
Fraud
Indiscipline
I have arrived attitude
Distractions
Trust issues
Dishonesty
Irresponsibility
Disobedience
Discouragement
Disappointment
Frustration
Procrastination
Living in the Past
Spiritual attacks
Negative dreams
Manipulation
Bewitchment
Strange Arrows
Foundation Challenges
Bloodline Battles
Evil Family Pattern
Activities of Hell
SYMPTOMS OF LIMITATIONS
v.9 "And Jabez was more honourable than his brethren: and his mother called his name Jabez, saying, Because I bare him with sorrow."
v.10 "And Jabez called on the God of Israel, saying, Oh that thou wouldest bless me indeed, and enlarge my coast, and that thine hand might be with me, and that thou wouldest keep me from evil, that it may not grieve me! And God granted him that which he requested." 
EMBARRASSING AFFLICTIONS
TERRIBLE MISFORTUNES
CHRONIC BACKWARDNESS
INADEQUACIES
REPEATED DISAPPOINTMENT
DISGRACEFUL FRUSTRATION
CODED UNRESOLVED PROBLEMS
WICKED EMBARGOES
HORRIBLE LIMITATIONS
RESTRICTIONS
MANIFESTATION POSTPONEMENT
UNLIMITED SUFFERINGS
SUFFOCATING DELAYS
PAINFUL FAILURE AT THE EDGE OF SUCCESS
EMBARRASSING ATTACKS
CHOCKING DIFFICULTIES
REPEATED DISAPPOINTMENT
WICKED SANCTIONS ON YOUR PROGRESS
SUDDEN STOPPAGE OF PROGRESS
ARROWS OF DOWNFALL
HORRIBLE BATTLES ON ALL SIDES
TERRIBLE SIEGE ON YOUR GROWTH
ROUNDABOUT MANIPULATIONS
SERIOUS LACK OF HELPERS, HELPS AND PLATFORMS
DAMAGING SICKNESSES
CHRONIC FINANCIAL EMBARRASSMENT
SLIPPERY BREAKTHROUGH
UNEXPLAINABLE HATRED, DISLIKE AND REJECTION
INABILITY TO MAKE PROGRESS AGAIN
AFFLICTION AND HARASSING DREAMS
ADDITION TO EVIL HABITS/SINS/BEHAVIOUR
SWIMMING IN THE EMBARRASSING OCEAN OF POVERTY
BIZARRE SWEAT & STRUGGLES
BREAKTHROUGH ABORTION
GOOD THINGS PASSING YOU BYE
STRANGE ACCIDENTS/UNTIMELY DEATH
DESOLATIONS OF THE HIGHEST ORDER
LACK OF MARITAL JOY
PATHETIC DISFAVOUR
USELESSNESS AND FRUSTRATION.
HOW TO OVERCOME LIMITATIONS

Salvation – Rom. 10 v 9
Know the Word of God – Prov. 4 v 7
Exercise faith in God – 2 Cor. 5 v 7
Act now – Matt. 11 v 12
Have a clear vision – Habakkuk 2 v 2
Depend on God Absolutely – Prov. 3 v 5 – 6
Obey God's Principle
Don't be lazy.
Prospect Knowledge.
Add Value to yourself.
Hard work and Smart work.
Keep good company.
Be Prayerful.
Dedication, Consistency, Resilience.
Be Grateful.
Observe Sabbath, Rest and Reward yourself.
BIBLICAL CASES OF LIMITATIONS TURNED TO DIVINE LIFTING
MAN BY THE POOL OF BETHSEIDA – John 5 v 2 – 9
The Limitation of long-time sickness
The Limitation of Inability to be helped
The Limitation of Impotence
The Limitation of Abandonment
The Limitation of being written off
The Limitation of seeing miracles without experiencing them
The Limitation of hoping without answers
The Limitation of Irrelevance
The Limitation of Condemnation
The Limitation of Forgetfulness
SIMON PETER – Luke 5 v 1 – 6
The Limitation of Sweat and Struggles
The Limitation of Toiling without Results
The Limitation of Frustration
The Limitation of Disappointment
The Limitation of Efforts being wasted
The Limitation of Talent Frustration
The Limitation of Dashed hopes
THE WOMAN WITH THE ISSUE OF BLOOD – Mark 5 v 25 – 34
The Limitation of Long time ailment
The Limitation of Filthiness
The Limitation of Suffering
The Limitation of Wasteful spending
The Limitation of Treatment without betterment
The Limitation of Isolation and Rejection
BLIND BARTIMAEUS –  Mark 10 v 46 – 52
The Limitation of Blindness
The Limitation of Opposing Voices
The Limitation of Begging
The Limitation of Low Life
The Limitation of Miracle quenchers
A WIDOW OF NAIN –  Luke 7 v 11 – 17; 2 Cor. 4 v 8 & 9
Limitation of Frustration
Limitation of Loneliness
Limitation of Losses
Limitation of Serial Untimely death
Limitation of Depression
Limitation of Repeated Affliction
Limitation of Being Sorrowful
LAZARUS – John 11 v 38 – 44,  John 12 v 10
The Limitation of Untimely Death
The Limitation of death at all cost (Psalm 41 v 5)
The Limitation of the grave yard
The Limitation of glory expiration before the time
THE WEDDING IN CANA OF GALILEE – John 2 v 1–10
The Limitation of Reproach
The Limitation of Inadequacy
The Limitation of Sudden Lack
The Limitation of Lack of Provision
The Limitation of Sudden stoppage of wine
JOSEPH – 37 v 7 – 20
The Limitation of Family conspiracy
The Limitation of Hatred
The Limitation of Opposition
The Limitation of Temptation
The Limitation of Lies against him by Potiphar's wife
The Limitations of Imprisonment
The Limitation of Forgetfulness by the Chief Butler
THE LAME MAN AT THE BEAUTIFUL GATE – Acts 3 v 1 – 6

The Limitation of Lameness from his mother's womb
The Limitation of Begging
The Limitation of Incapacitation
NAMAN THE LEPER – 2 Kings 5 v 1
The Limitation of Leprosy
The Limitation of Pride and Arrogance
JABEZ – 1 Chron. 4 v 9
The Limitation of Bearing a Wrong Name of Identity
The Limitation of Overwhelming Challenges
The Limitation of Dishonour
THE COLT TIED UP – Mark 11 v 2 – 4
The Limitation of being tied down
The Limitation of Demobilization
SCRIPTURAL REASONS WHY YOU SHOULD NOT BE LIMITED AGAIN IN JESUS NAME
BE FRUITFUL, MULTIPLY, REPLENISH THE EARTH, SUBDUE AND HAVE DOMINION
Gen. 1 v 28
"And God blessed them, and God said unto them, Be fruitful, and multiply, and replenish the earth, and subdue it: and have dominion over the fish of the sea, and over the fowl of the air, and over every living thing that moveth upon the earth."
EVERY VALLEY SHALL BE EXALTED
Isa. 40 v 4 & 5
v.4 "Every valley shall be exalted, and every mountain and hill shall be made low: and the crooked shall be made straight, and the rough places plain"
 v.5 "And the glory of the LORD shall be revealed, and all flesh shall see it together: for the mouth of the LORD hath spoken it."
GATES OF BRASS AND BARS OF IRON SHALL BE BROKEN
Isa. 45 v 1 – 3
v.1 "Thus saith the LORD to his anointed, to Cyrus, whose right hand I have holden, to subdue nations before him; and I will loose the loins of kings, to open before him the two leaved gates; and the gates shall not be shut"
 v.2 "I will go before thee, and make the crooked places straight: I will break in pieces the gates of brass, and cut in sunder the bars of iron"
 v.3 "And I will give thee the treasures of darkness, and hidden riches of secret places, that thou mayest know that I, the LORD, which call thee by thy name, am the God of Israel."
ENLARGEMENT IS YOUR BIRTHRIGHT
Isa. 54 v 2 & 3
v.2 "Enlarge the place of thy tent, and let them stretch forth the curtains of thine habitations: spare not, lengthen thy cords, and strengthen thy stakes"
 v.3 "For thou shalt break forth on the right hand and on the left; and thy seed shall inherit the Gentiles, and make the desolate cities to be inhabited."
YOU SHALL NOT BE SMALL AGAIN
Jer. 30 v 19
"And out of them shall proceed thanksgiving and the voice of them that make merry: and I will multiply them, and they shall not be few; I will also glorify them, and they shall not be small." 
GOD WILL MULTIPLY YOU EXPONENTIALLY
Isa. 60 v 22
"A little one shall become a thousand, and a small one a strong nation: I the LORD will hasten it in his time."
EVERY DARK NAIL/PEG WILL BE REMOVED
Isa. 22 v 25
"In that day, saith the LORD of hosts, shall the nail that is fastened in the sure place be removed, and be cut down, and fall; and the burden that was upon it shall be cut off: for the LORD hath spoken it."
EVERY LIMITING YOKE SHALL BE BROKEN
Isa. 10 v 27
"And it shall come to pass in that day, that his burden shall be taken away from off thy shoulder, and his yoke from off thy neck, and the yoke shall be destroyed because of the anointing."
YOU ARE A CITY SET ON AN HILL THAT CANNOT BE HIDDEN
Matt. 5 v 13 – 16
v.13 "Ye are the salt of the earth: but if the salt have lost his savour, wherewith shall it be salted? it is thenceforth good for nothing, but to be cast out, and to be trodden under foot of men."
 v.14 "Ye are the light of the world. A city that is set on an hill cannot be hid."
 v.15 "Neither do men light a candle, and put it under a bushel, but on a candlestick; and it giveth light unto all that are in the house."
 v.16 "Let your light so shine before men, that they may see your good works, and glorify your Father which is in heaven."
THE GLORY OF GOD IN YOUR LIFE MUST BE REVEALED
Isa. 40 v 5
"And the glory of the LORD shall be revealed, and all flesh shall see it together: for the mouth of the LORD hath spoken it."
YOU ARE MORE THAN CONQUERORS
Rom. 8 v 37
"Nay, in all these things we are more than conquerors through him that loved us."
POWER OF GOD IN YOUR LIFE CAN REMOVE LIMITATIONS
Ps. 62 v 11
"God hath spoken once; twice have I heard this; that power belongeth unto God."
PRAYER
Phil. 2 v 9 – 11(NKJV)
v9 "Therefore God also has highly exalted Him and given Him the name which is above every name:
v10 "That at the name of Jesus every knee should bow, of those in heaven, and of those on earth, and of those under the earth"
v11 "And that every tongue should confess that Jesus Christ is Lord, to the glory of God the Father."
Songs:
Jesus Christ is Lord (2x) In Jesus name
Jesus Christ is Lord, Amen.                                  Every knee shall bow
Every Knee Shall bow                                         In Jesus name
Every Tongue confess                                                    Every tongue confess
That Jesus Christ is Lord
(Amen)
Anointing that breaks the yoke of Limitations, fall on me in Jesus name.
Arrows of Limitations fired into my life, I reject you in Jesus name, Backfire!!!
Endless battles limiting my potentials, my talents, my gifts, my productivity and manifestations, scatter by fire in Jesus name.
Any strange embargo limiting my rising up, hear the word of God, by the power of resurrection, be lifted in Jesus name.
According to Isa. 22 v 25,
"In that day,' says the Lord of hosts, 'the peg that is fastened in the secure place will be removed and be cut down and fall, and the burden that was on it will be cut off; for the Lord has spoken.' "
Any dark nail or peg limiting my manifestation, burn by fire in Jesus name.
I am on my way to my Rehoboth and Beersheba, all strange limitations on my way, be removed by fire in Jesus name.
Altars, Covens, Shrines, Temples sponsoring limitations against my life, burn by fire in Jesus name.
Contrary voices, Opposing voices, Negative utterances causing limitations in my life, be silenced in the name of Jesus.
All manners of manipulations causing limitations in my life, Blood of Jesus, cancel them in Jesus name.
Strange situations beyond my control causing limitations in my life, scatter by fire in Jesus name.
Monitoring Powers behind limitations in my life, work, family, be disgraced in Jesus name.
Negative dreams sponsoring limitations in my life, family and work, blood of Jesus, cancel them in Jesus name.
Those negative habits, addictions, character deficiencies in my life fueling limitations, be removed in Jesus name.
I will not give up on God, I will not give up on myself, I reject any form of Limitations, as from now in Jesus name.
I command the underlisted yokes of Limitations to break in Jesus name.
Yokes of Self battle Limitation
Yokes of Negative Habits Limitation
Yokes of Toxic Behaviour Limitation
Yokes of Character Problems Limitation
Yokes of Breakthrough Limitation
Yokes of Manifestation Limitation
Yokes of Spiritual Limitation
Yokes of Progress Limitation
Yokes of Achievement Limitation
Yokes of Advancement Limitation
Yokes of Lifting Limitation
Yokes of Business Success Limitation
Yokes of Enlargement Limitation
Yokes of Relevance Limitation
Yokes of Productivity Limitation
Yokes of Patronage Limitation
Yokes of Endorsement Limitation
Yokes of Recognition Limitation
Yokes of Validation Limitation
Yokes of Showcasing Limitation
Yokes of Encouragement Limitation
Yokes of Settlement Limitation
Yokes of Celebration Limitation
Yokes of Selection Limitation
Yokes of Greatness Limitation
Yokes of Prosperity Limitation
Yokes of Empowerment Limitation
Yokes of Establishment Limitation
Yokes of Resources Limitation
Yokes of Environmental Limitation
Yokes of Neighbourhood Limitation
Yokes of Blood Covenant Limitation
Yokes of Polygamous Limitation
Yokes of Palace Limitation
Yokes of Negative Dream Limitation
Yokes of Sickness Limitation
Yokes of Marital Limitation
Yokes of Parental Limitation
Yokes of Ancestral Limitation
Yokes of Emotional Limitation
Failure to practice kingdom principles Limitation